Capital and an original idea would seem like the only two things an aspiring entrepreneur needs to succeed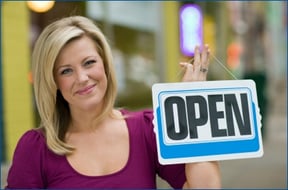 in the business world; or these days, a good idea/product, and fifteen minutes with the people on the "Dragon's Den/Shark Tank" reality TV show. But this isn't always the case.
Entrepreneurs need to have the right personality to get a foot in - and stay in - an already bloated business world. It takes more than a charismatic voice to peddle a towel that dries liquid in an instant, or an oxygen-based stain remover to get even those stubborn grass stains out.
Collaborating with Bill Wagner, author of the "The Entrepreneur Next Door," we created a test that evaluates a person's entrepreneurial potential. The test covers seven key business traits:
Self-sufficiency
Conscientiousness
Drive
Social Skills
Optimism
Risk-taking
Networking Ability
We collected data from over 350 entrepreneurs who took the EPA (Entrepreneur Personality Assessment), and what we discovered was that entrepreneurs outscored people without business experience on every trait. What's clear is that entrepreneurs have a personality pattern that places them apart from other people – and looking at the life of an entrepreneur, we can understand why.
To be able to wager your life savings on what often seems like a pipe dream to others takes a special type of character. For example, 72% of the entrepreneurs indicated that they are quite comfortable taking monetary or work-related risks, compared to 54% of the rest of our sample. The entrepreneurs also described themselves as being more ambitious than regular people. This says a lot. They know that they are different from others.
According to our study, the difference between the mindset and character of self-made business owners and the rest of the population is unequivocal. For example:
31% of entrepreneurs (compared to 15% of non-entrepreneurs) constantly look for opportunities to expand their social network.
34% of entrepreneurs (compared to 20% of non-entrepreneurs) find it easy to persuade and sell things or ideas to people.
36% of entrepreneurs (compared to 26% of non-entrepreneurs) always look on the bright side.
41% of entrepreneurs (compared to 27% of non-entrepreneurs) enjoy (and are skilled at) making conversation with others.
43% of entrepreneurs (compared to 34% of non-entrepreneurs) believe that risks must be taken in order to be successful.
44% of entrepreneurs (compared to 29% of non-entrepreneurs) are perfectly comfortable carrying through on ideas without depending on anyone else.
51% of entrepreneurs (compared to 29% of non-entrepreneurs) feel stifled in a position with little decision-making power.
Starting a business involves a lot of ambiguity, uncertainty and responsibility. Those who go into it thinking only about the money they will make or the power they will have are going to be blindsided by the realities of what it's really like to build and run their own business. It isn't easy and it isn't for everyone.
Entrepreneur Bill Wagner also knows the importance of knowing one's entrepreneurial strengths. "The entrepreneur test is must-have information. We know that for entrepreneurs, it's all about independence, control, authority, power, and autonomy. You need to know where you fall on the entrepreneurial spectrum so that you have a stronger sense of what to work on."
Here are some tips for budding/aspiring entrepreneurs:
Choose your business well. If you are not a people person, being around customers all day might not be the best choice for you. If you hate cheese, starting a pizza restaurant might really get to you after a while. Consider your lifestyle, preferences, and skills before deciding what kind of business you want to start. Also, get to know the area where you plan to open your business. Does this community need what you have to offer? What is the cultural make-up of the neighborhood, and will this impact the products/services you will offer? Who will your biggest competitors be, and how can you draw their customers? Is there ample parking and public transport available?
Connect with local entrepreneurs. Find out if the self-employed people in your area have an organization you can join. These people have already gone through the arduous process and have likely been successful. They'll be an excellent resource for advice and support. If you don't have an organization to turn to you in your community, read up on famous, self-made entrepreneurs.
Educate yourself about all the costs involved. Make sure that you get all the information about the costs and loans needed to start your own business. There may be hidden expenses involved, so educate yourself in order to be prepared.
Focus on your strengths but recognize your weak spots. Everyone has their unique talents...and weaknesses. You need to concentrate on the things you are good at and if you're required to do something that isn't your forte, try farming it out to someone else. This can help you create good business relations with other people and allow you to continue providing a professional level of service to your client.
Make time to learn something new every week. Whether it's changing a fuse or writing a proposal for a grant, make it your mission to learn a new skill every week. With that kind of breadth of knowledge, you never know when your newfound talent could come in handy and impress a client. It will also keep your mind in tip-top shape.
Learn to adjust and be flexible. You need to be willing to roll with the punches and adjust your priorities, hours, work style, and plans when the situation changes. If you are not willing to adapt, this is not the field for you.
Keep long-term goals in mind. Taking risks can be scary, but looking at the big picture will help you realize that achieving goals often requires risk - and failure is just part of the equation. Risk-taking is essential for success; limiting it can result in stagnancy. If you want to be a good entrepreneur you must have faith that you can handle negative outcomes while taking risks responsibly. If, however, the outcome of a risk is negative, there is no need for self-blame. Take note of what went wrong, move on, and avoid similar risks in the future. It is important to remember that fear is normal – it is simply part of the risk-taking process.
If you're interested in using EPA (Entrepreneur Personality Assessment) or other tests for HR purposes, request a free trial for ARCH Profile here.
Want to learn more about using psychological tests for hiring, leadership development, career development or talent retention?
Download our free eBook
loaded with down-to-earth information about psychological testing for HR purposes.
Ready for a test drive of ARCH Profile, the delivery system for PsychTests' assessments? All you need to do is ask!
If you're interested in using the Procrastination Test or other assessments for professional purposes, request a free trial for ARCH Profile

%MCEPASTEBIN%